Traditional Values, Modern Treatments
Hi All!
Cannot believe how quickly our first year of business has gone in! I feel like just yesterday I was taking the tentative steps in launching and now its over a year and we are busy,busy, busy!
This year I really do aim to post an update once a month to keep you up to date with all that is happening in salon. Please bare with me while I make it a habit! 
So far this year has been pretty good to us and I hope you all had a wonderfull Christmas and New Year.
Last week The Vintage Beauty Box was involved in Catwalk Fashion Show with The University of St Andrews. We had a great time creating makeup looks for the stunning models in the theme of street style. I got to work with one of my favs Kerry from Pretty You. We make a fab team, even if I do say so myself! Check out our facebook page for some images behind the scenes and also from the catwalk!
Other than posting more here another big aim is to improve what we offer you guys in salon. So I am looking for suggestions of things you would like to see being offered. I have already booked to attend a gel overlay course to help those with nails that are thin, bendy, brittle and generally not the greatest health so you too can enjoy beautiful nails.  But is there anything else? Get in touch and let us know!
We are continuing our support of Look Good, Feel Better through assisting in workshops and fundraising. Watch this space for the first fundraiser! In addition to this we will also be launching taster facial sessions giving you the chance to experience our amazing systems in 30mins! Look out for our announcement on our Facebook page! 
And last but by no means least we are currently awaiting the building of our brand new nail bar, located at the cafe in the salon! We are very excited to have this bespoke area! Keep a watchfull eye on Facebook for a potential offer once its bult! 
Thats all for now, see you soon!
xxx The Vintage Beauty Box
Wowzers, June has been some month!
June 2015 saw the launch of Caci Non Surgical Treatments at The Vintage Beauty Box. This revolutionary, medical treatment works to lift sagging facial muscles. One of the biggest giveaways of age is lack of volume and by lifting the muscles we can now add volume without the need for surgery or fillers! Perfect as a companion to Environ Skin Care treatments and homecare. Let Environ make the skin look healthy and Caci lift and add volume! And it doesnt have to stop at the face! Caci can also be used to lift the bum, giving a Kylie "hot pants" look. In addition it also helps to breakdown fatty disposits! I can almost hear the beach calling!
If that wasnt amazing enough we also hosted a charity event in the salon. I volunteer for Look Good, Feel Better, helping to run workshops for ladies currently having treatment for Cancer. These workshops help those women to regain their self confidence and give a pamering session. Taking them through a skin routine to assist in managing the side effects treatment can have on their skin onto camouflaging redness which can occur. We also can help those ladies missing lashes and brows to learn how to make it look like they still have them. The workshops are aways super busy and the charity has helped so many women get their confidence back but they need funding! So we held a cupcake sale, raffle and nail paint day in salon to help raise those much needed funds! A massive thank you to all who attended and those who bought raffle tickets. A huge thank you has to go to my lovely mum who baked through the night and to my friend Claire Simpson who came to help on the day! Also a massive thank you to the whoel team at Sophie Bulter Hairdressing who either wore pink or paid a hefty fine! 
All that plus a host of bridal parties to beautify! What an awesome month! We even got some sun!
Bring on July! I will be stalking golfers at The Open so Im sure there will be some fab stories and pics going up on the facebook page! 
xxx The Vintage Beauty Box
Wedding Season is well and truely here and The Vintage Beauty Box is chocka with brides, bridesmaids, MOBs, MOGs and wedding guests! Its the best time of the year, although wedding season is getting longer and longer with weddings from feb to nov now beicoming more popular. 
Whether your wedding is in the Spring, Summer, Autumn or Winter there are a few things you can do to help ensure you look your most fabulous on the big day! 
1) Prep, prep, prep!!
Lets face it ladies, the wedding photos are going to be with you for a long time! So doesnt it make sense to invest in the run up to the big day? Im not talking spending thousands, just create a list of top priorities! For me the biggest was getting my hair back to a semi natural colour! I was a flaming red at my engagement but knew I wanted to be a brilliant blonde on the big day so I went and spoke to my hairdresser to get the lowdown on how long it would take to transform my hair! Im glad I did! It was several long appointments over the space of a year to give me my blonde dream. I look at my photos now and am so glad I invested!
So I guess my point is, make a list. What is your dream look? Then go for a consultation! The sooner you do it the sooner you can get onto planning the fun things like the honeymoon!
2) Listen to the experts.
We arent know it alls, we just know our field of expertise!
For example if a bride wants flawless skin for her wedding there is only so much makeup can do, so go see your skin specialist and ask for their advice. Yes they will recommend products but that is only so you get the solution to your concern. A great product to use in the run up to the wedding is #Skinade as it locks moisture into the skin, treats breakouts from stress and can even smooth out wrinkles!
So where to go for that expert advice??? Most think popping into the local department store is the answer and while the ladies and gents who work the counters there know their stuff on the brand they are selling they are highly targeted to sell. This can be off putting for some and I often wonder if they are recommending because its what is best for me or if its because they need to hit their target. 
Listen also to the person you hire for makeup and hair. They will be able to tell you if the look you desperatley want will actually suit you. Be open minded, perhaps they will try a look that is just WOW for you but you never thought of it before! 
3) HAVE A TRIAL!!!
I cannot stress this enough to my brides! The trial should not be a quick appointment where one look is tried and then wham, bam, thankyou maam, see you on the wedding day! The trial should consist first off with an indepth consultation so the stylist or MUA can get all the nitty gritty info down from timings to concerns to colours to theme to style of the wedding.After this i would normally try a couple of eye looks based on the info gathered. If the bride likes one of them then we move onto the base, if not I will find out what she wants to change and start again. The base is tricky as I know my products, #JaneIredale, inside and out so will know what will suit them but I do ask for their imput eg matte or glowing, sheer or full then give my professional opinion. It might be that I do half the face with my suggestion and half the face with the brides choice, and yes I have been known to go with the brides choice on occasion! Then comes lips, blush and contouring. All in all my trials can last from 1 to 2 hours.
4)Money,money,money
It has been said the more expensive the MUA the better the Makeup. Im not talking hundreds of pounds but expect to pay anything from £40 upwards if you are part of the wedding party. The most basic reason for this: you are getting so much more than makeup application. You are getting the 2years + of training that the makeup artist has probably funded themselves. You are getting all the years of bridal makeup experience they have accumulated (10yrs + in my case). You are getting the hours and hours of CPD(continuous professional development) they have taken part in. You are getting the benefit of them having seen pretty much everything before and so can rest easy knowing the MUA can handle the fact you got over zealous with the tweezers the night before the wedding! You are paying for the MUAs knowledge of how to apply makeup to look good in natural daylight, disco light and the photos.
Well I guess thats my main advice and info for bridal makeup!
I am available for consultations in salon wednesday to saturdays or even send me an email [email protected] if you want more info.
xxx The Vintage Beauty Box
We are so excited to announce that in the very near future The Vintage Beauty Box will be launching CACI Non-Surgical Face Lift Treatments! 
This was a natural progression for us as it supports not only one of our other brands and treatments but several! While we can use Environ Skin Care, Skinade and The Advanced Nutrition Program to improve the health and look of the skin and even smooth out wrinkles, CACI will work on the muscles to tone and lift! Truely complimenting our philosophy of achieving true results for our gorgeous clients.
We cant wait to launch it and we will be having an event as soon as training is completed to ensure everyone can get all the information they need on this phenominal treatment program!
Watch this space for more info!
xxx The Vintage Beauty Box
With the sun most definately making an appearence this week in bonny St Andrews and some of the guys and girls in the salon either prepping or returning from sun holidays, talk has turned to the pros and cons of waxing! In particular waxing of the Bikini Line! 
Listening to the girls chatting I heard some real horror stories about previous wax treatments, which is why I decided to bust some myths and ease some minds on the process of waxing the most intimate of areas!
But Waxing is painful!
Well duh! of course its going to be a bit sorer than shaving! The hair is being pulled out by the root as opposed to being cut at the level of the skin. What this means however is that you get a longer hair free time and no itchy regrowth! And lets face it noone wants an itch 'down there'!!! The good news is that waxing has come along wax from when I first started and the new wax systems, pre wax oils and after wax treatments really do mean you get the most painless treatment as it can possibly be! Yay! One word of warning, should a therapist come towards you with strip wax (where they use a paper or fabric strip to remove the wax) RUN FOR THE HILLS!!!! The only wax you want used on your bikini line is hot wax which hardens on the skin!
I want it all off, is that more painful than your basic bikini wax?
This is a tricky question to answer as the body is an amazing thing. However, natural pain relief is released in the body meaning that any pain you feel from a Basic Bikini wax will be the same for a Hollywood.
So what is Hot Wax?
Hot wax is a peelable wax that hardens as it dries. Waxperts Hot Wax (wax of choice at The Vintage Beauty Box) has a lower melting point meaning less redness  and pain for the client! Used alongside the Waxperts Pre Wax Oil and After Wax oil it reduces inflammation and discomfort during and after the treatment! Happy days! Waxperst Hot Wax is the ONLY wax we use to treat the delicate Bikini area.
But do I have to remove my underwear?
Would you go to the hairdressers and ask them to cut your hair with a hat on??? Yes for the specialist Brazilian and Hollywood waxing you do need to remove your underwear. There are 3 reasons for this 1: for a Brazillian it means we can ensure a non squint landing strip! 2: your undies dont get any wax on them and 3: for a Hollywood we can make sure every last hair is removed!  Remember your therapist will have done millions of these waxes and will have seen it all before! So please dont panic or be embarassed!
Ok, so how long will it last?
For first timers I would schedule a follow up appointment at 4weeks but the good news is the more you wax the weaker the hair becomes so you get longer our of your treatment! Hair needs to be roughly 1cm long to get a good clean wax. 
I hope this has answered some questions for you all. As I have said already, your therapist has seen it all before and will aim to ensure you have the least painful treatment possible!
So now you know you want to wax, here is a wee descriptor on the styles!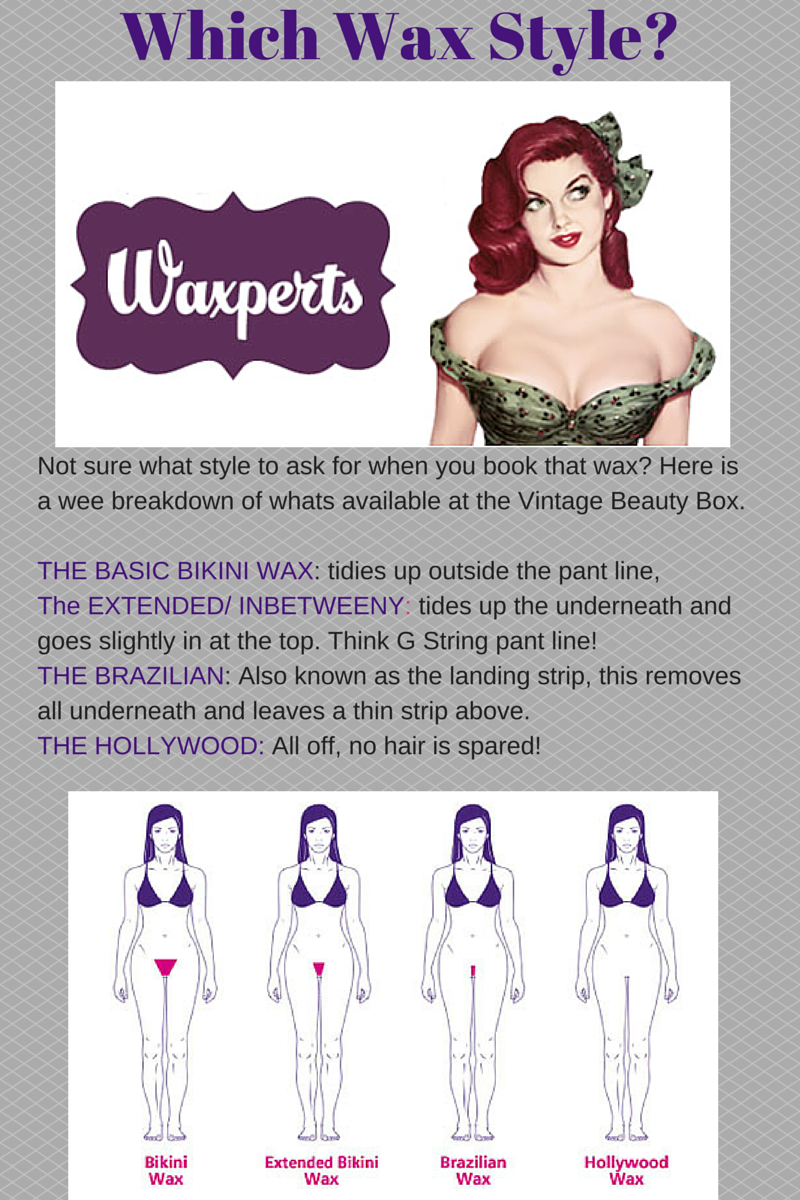 Hello my lovelies!
What glorious weather we have been having this past couple of weeks! Spring is most definatley here and The Vintage Beauty Box is getting geared up for the better weather with our fab Waxperts Waxing, May Ball Offers and lots and lots of wedding trials! Plus a brand new serum from Environ!
Waxperts Waxing: whether it is a quick brow tidy through to gettting bikini ready, Waxperts waxing really does put the 'Treat' back into those essential waxing treatments! No longer will bkini waxing cause mild panic as this wax shrink wraps round the hair but doesnt stick to the skin! So many clients report a less painful wax and longer lasting results! Awesome!
The May Ball on May 3rd is a Spring social high point for many St Andrews University students and in partnership with Sophie Butler Hairdressing we have an amazing offer for those looking for hair and makeup on the day. Book before Arpil 20th and recieve £10 off the total bill! AMAZING!!! Call us now and get booked in! We are also offering nail and waxing appointments to prep before hand.
And now for the really BIG NEWS!! Environ SkinCare have launched a brand spanking new professional serum! this serum will be used in our active and advanced active facials at The Vintage Beauty Box and we simply cant wait! Based on active ingredients, this serum has been show to not only give overall improved appearence of the skin but a tighter, more youthful, smoother skin! It works on promoting collegen and elastin within the skin through the use of messangers in the deepest layers of the skin!
As we are so excited about this launch we have decided to do a wee promo! Book and pay for 3 1hour active facials and we will give you a fourth on us! All we need in return is a wee photo of your skin before and after the 4 treatments!.
Call now on 01334 478 854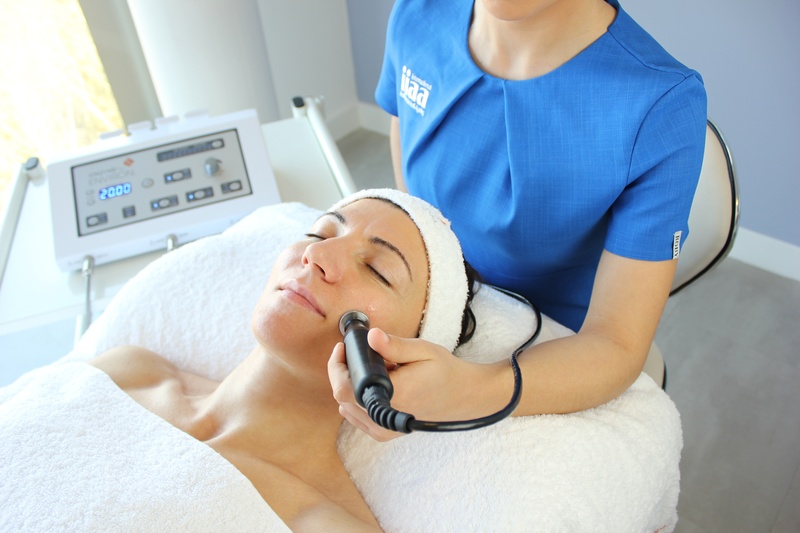 xxx The Vintage Beauty Box
Its been a wee while since we have updated you on our goins on.
We have been super busy first off doing some advanced waxing training with our Waxperts Brand.
This wax truely puts the 'treat' back into 'treatment' allowing for the least pain possible in all waxing! Waxperts is an Irish based company which has just recently come to the UK and we are so very excited to be able to work with such an advanced wax brand. So if you are like my model for the training and shave to skip the pain of waxing get in touch and experience as pain free a wax as you will ever experience!
After our training course we then had our Environ and ANP SKin Analysis Event to look forward to! Last Thursday we welcomed Siobhan from iiaa ltd to the salon where she met some of our lovely clients and analysed their skin with the advanced Visia Skin Scanner. 
And if thats not enough we have also just launched our student and tutro dicount! 
Valid on Wednesdays with a valid Matric or Staff I.D card all college and uni students can receive a 10% discount on treatments! And because we know that teachers, lecturers and Uni staff deserve pampering we are giving them the same discount on Wednesdays too! Check out our Facebook or Twitter feed for more info.
So it really has been all go this past few weeks! But boy do we LOVE it when its busy!
xxx The Vintage Beauty Box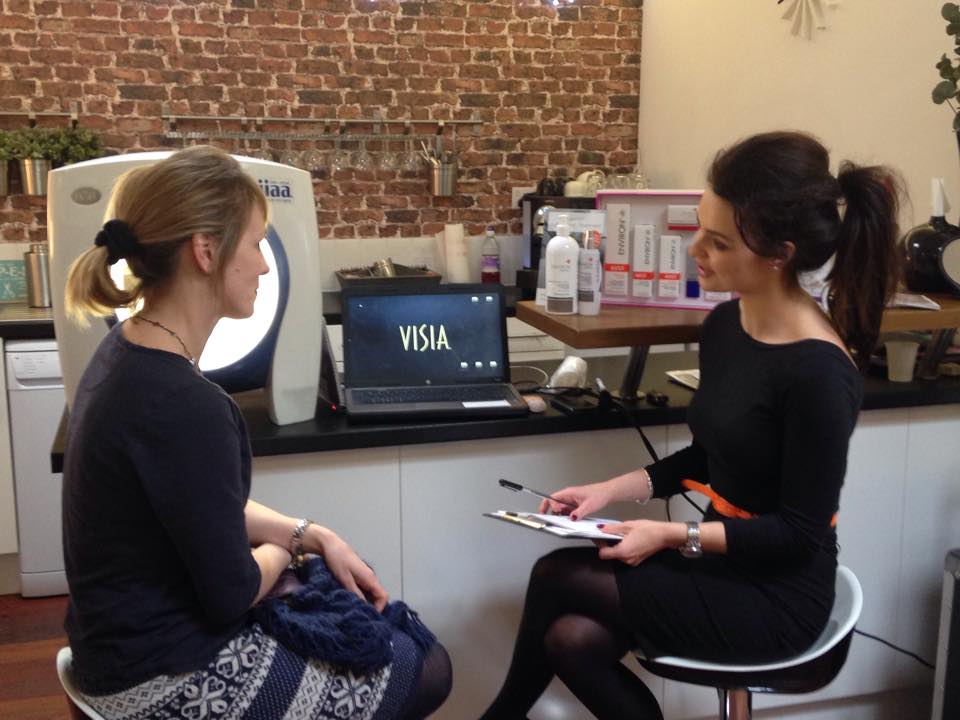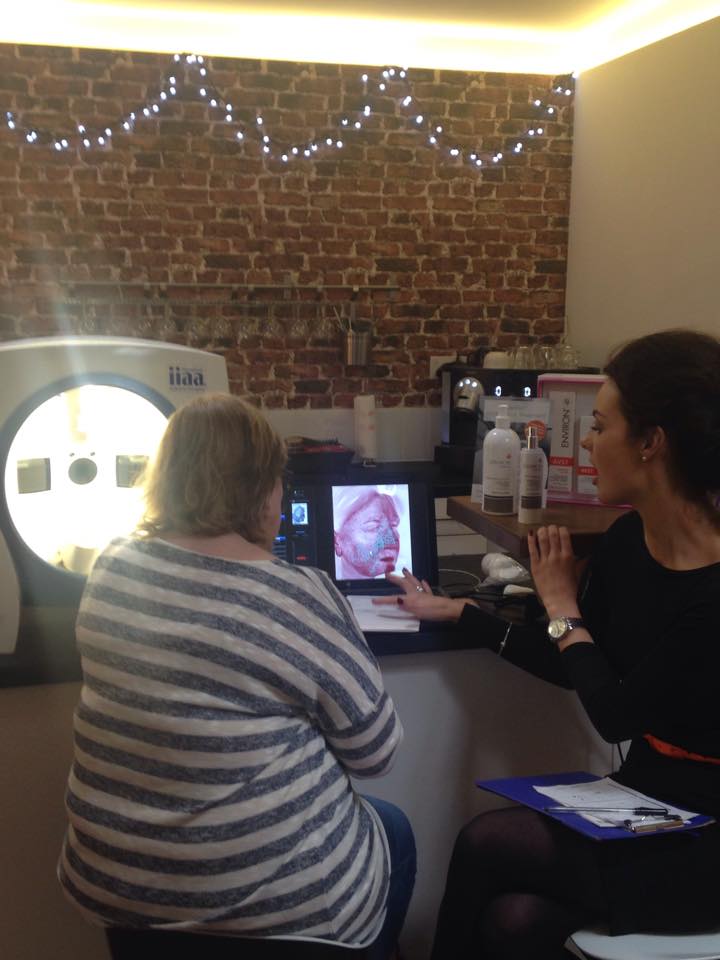 Its been a busy old time at The Vintage Beauty Box, busy and VERY exciting.
Our gorgeous new sign is up outside for all to see (please do pop by and have a nosy!) and we are heading off on an advanced training course in the next couple of weeks.
In addition to this we have the amazing Siobhan from Environ and ANP visiting on March 26th with her advanced skin analysis machine to help us all to improve our skin. This event is striclty by appointment only and spaces are limited so call now to book and avoid dissapointment. The advanced Visia camera photographs even the deeper layers of the skin to establish the root cause of skin concerns and then Siobhan can advise on a comprehensive treatment program to resolve the issues.
We are also launching our loyalty program (Vintage VIP's) in the next couple of weks for those lovelies who regularly come for treatments so be sure to book in and collect yours!
Well that is all for now. See you soon!
xxx The Vintage Beauty box
Hi All,
We have had some fab new products launching at The Vintage Beauty Box this week.
Starting with creating the perfect canvas we have the award winning Skinade. Creating better skin from within this delicious drink boosts collagen from the inside out and so compliments every skin care routine. Perfect for those concerned with lines, wrinkles and even scarring! 
It is loved by celebs around the world and by some of my gorgeous clients already! 
Check out these results!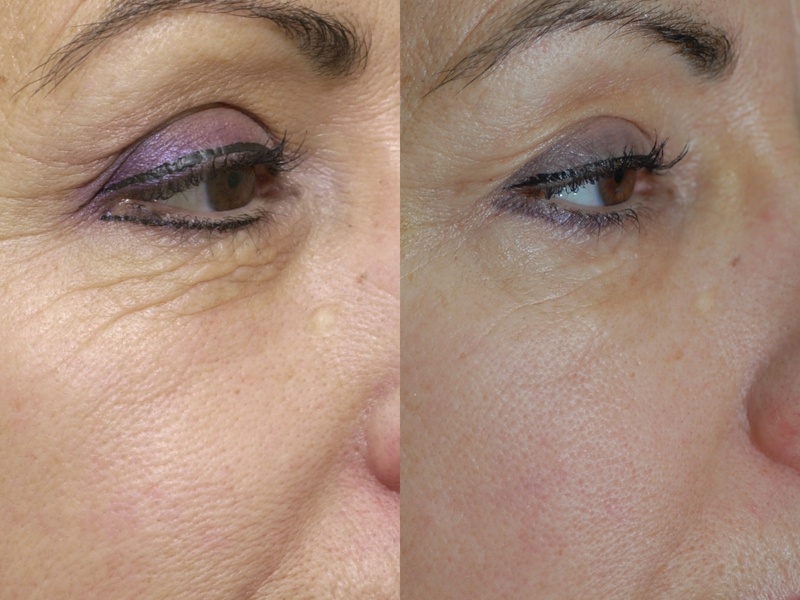 Results are fab!!!
Second we have the fabulous new product from Jane Iredale. Called HandDrink it helps to protect our hands from the damaging effects of the envrionment around us. We are using it as part of our Manicure treatments as it helps prevent aging of the hands which could occur from having UV lamps used in manicures. It has the most gorgeous smell of Organic Rose which also is amazing at hydrating. And if thats not enough it also has the Skin Cancer Foundation seal of approval as a broad spectrum UV light protector! Woohoo! No more scraggy hands!!!!
So as you can see we are super excited by our fabby new products and cant wait to try them on our lovely clients! 
I am in salon on Friday and Saturday this week so feel free to pop in and ask me all about these and any of our product ranges!
xxx The Vintage Beauty Box
It has been a fun few weeks at The Vintage Beauty Box. We had an absolutely amazing first day and its been even better as the weeks have progressed. A massive thank you to all our lovely clients who have been in for treatments and reviewed us on facebook. You are all stars!
Its coming up for Valentines Day but boys, dont panic! Treat your better half to a gift voucher and let them pick their perfect treatment! 
In the coming weeks keep an eye out here for some handy tips and tricks to create the perfect Valentines Makeup look.
xx The Vintage Beauty Box
/